January 12, 2010, a 7.0 magnitude earthquake shook Haiti to its core at 4:53pm (local time), leaving 1.5 million without housing and 300,000 dead. Four years later, efforts at reconstruction continue. The Bazilio Ecole School in Haiti, located in one of the hardest hit areas of PauP (also one of the poorest), very grassroots and old school. Their focus is on ensuring the children a safe space to learn, play and grow. Since the earthquake, every inch of their space is utilized appropriately for daily lessons and activities. Please take the time to take a tour through the school and buy some tees. Thank you for your time and investment.
---
Ayiti Cherie: Signs of Life Gallery Opening & Benefit given by professor and author Myriam Chancey on 1/10/2014. Tees on display for the 1st time raising over $200 in one night. Professor Chancey sold pictures from her continued Haiti visits which raised money for earthquake relief as well. A big THANK YOU to all who attended and donated!


Powered by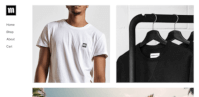 Create your own unique website with customizable templates.