So you want a different type of Soapbox Tee? No worries. We provide the finest in custom shirt production at very desirable prices. We've made our mark on the streets and we wouldn't be where we are if it wasn't for our custom clients.

We provide services for news publications, advocacy groups, small business owners, cooks, artists, yoga instructors, college students, politicians...get the gist? Whether you're looking to get a 1 or 2 color design, we can accomodate your needs! Send us your design and let's get started. Don't have a design? Awesome, we'll help you create one.
Powered by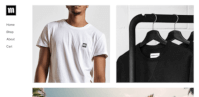 Create your own unique website with customizable templates.